Profiled timber
FUNCTIONALITY AND DIVERSITY IN FORM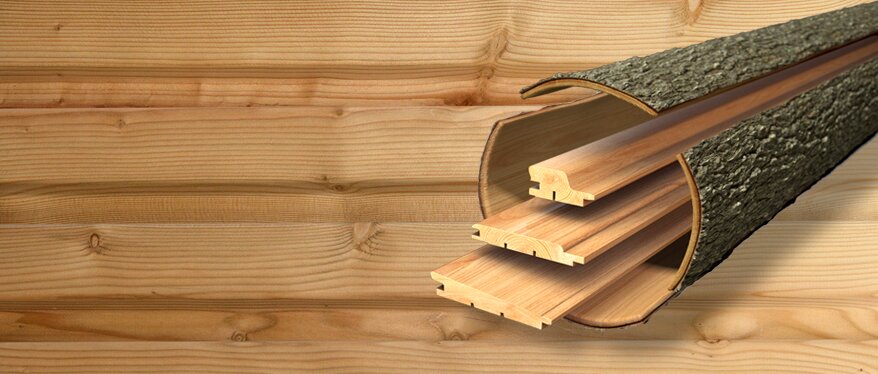 Aesthetic and Ambience Included
As an all-rounder, profiled timber proffers itself for various aesthetic and functional solutions for interior and exterior architecture. The natural material wood is currently experiencing a renaissance. No wonder, the multifaceted application of profiled timber for horizontal and vertical areas speaks for ecological as well as aesthetic elements.
At our plant, we produce diverse profiled timber that radiates a cheerful and comfortable ambience and combines elegantly with concrete, steel or glass within the realms of modern architectural concepts. In façade construction, profile timber makes it mark with its insulating properties.
Depending on its application, attention has to be paid to the characteristics of the wood in consideration of constructional and aesthetical specifications to achieve long-term beauty, durability and – if necessary – load bearing results. Our experts are here with their know-how to achieve individual solutions for you.
Profiles formwork
Overview

Wood types
Ash-tree

Fraxinus Excelsior
| | | |
| --- | --- | --- |
| Profiles | Dimensions | Technical treatment |
| chamfered boards (profil C)/ trapez / roll | 18-24 x 82, 100, 125mm | untreated / Thermo |
| softline | 15-18 x 82, 100, 125mm | untreated /Thermo |
| smooth edge boards | 15/18/20/25 x 80 - 150mm | untreated / Thermo |
| rhombo | 26-32 x 74mm | untreated / Thermo |
| parallelogram | 26 x 68, 78, 98, 108mm | untreated / Thermo |
| diagonal | 25 x 146mm | untreated / Thermo |
Pine

Pinus Sylvestris
| | | |
| --- | --- | --- |
| Profiles | Dimensions | Technical treatment |
| chamfered boards (profil C)/ trapez / roll | 18-24 x 82, 100, 125mm | untreated / Thermo |
| softline | 15-18 x 82, 100, 125mm | untreated / Thermo |
| smooth edge boards | 15/18/20/25 x 80 bis 150mm | untreated / Thermo |
| rhombo | 26-32 x 74mm | untreated / Thermo |
| parallelogram | 26 x 68, 78, 98, 108mm | untreated / Thermo |
| diagonal | 25 x 146mm | untreated / Thermo |
Oak

Quercus Robur
| | | |
| --- | --- | --- |
| Profiles | Dimensions | Technical treatment |
| chamfered boards (profil C)/ trapez / roll | 18-24 x 82, 100, 125mm | untreated / Thermo |
| softline | 15-18 x 82, 100, 125mm | untreated / Thermo |
| smooth edge boards | 15/18/20/25 x 80 bis 150mm | untreated / Thermo |
| rhombo | 26-32 x 74mm | untreated / Thermo |
| parallelogram | 26 x 68, 78, 98, 108mm | untreated / Thermo |
| diagonal | 25 x 146mm | untreated / Thermo |
Beech

Fagus Sylvatica
| | | |
| --- | --- | --- |
| Profiles | Dimensions | Technical treatment |
| chamfered boards (profil C)/ trapez / roll | 18-24 x 82, 100, 125mm | untreated / Thermo |
| softline | 15-18 x 82, 100, 125mm | untreated / Thermo |
| smooth edge boards | 15/18/20/25 x 80 bis 150mm | untreated / Thermo |
| rhombo | 26-32 x 74mm | untreated / Thermo |
| parallelogram | 26 x 68, 78, 98, 108mm | untreated / Thermo |
| diagonal | 25 x 146mm | untreated / Thermo |
Robinia

Robinia Pseudacacia
| | | |
| --- | --- | --- |
| Profiles | Dimensions | Technical treatment |
| chamfered boards (profil C)/ trapez / roll | 18-24 x 82, 100, 125mm | untreated / Thermo |
| softline | 15-18 x 82, 100, 125mm | untreated / Thermo |
| smooth edge boards | 15/18/20/25 x 80 bis 150mm | untreated / Thermo |
| rhombo | 26-32 x 74mm | untreated / Thermo |
| parallelogram | 26 x 68, 78, 98, 108mm | untreated / Thermo |
| diagonal | 25 x 146mm | untreated / Thermo |
Poplar

Populus Balsamifera
| | | |
| --- | --- | --- |
| Profiles | Dimensions | Technical treatment |
| chamfered boards (profil C)/ trapez / roll | 18-24 x 82, 100, 125mm | untreated / Thermo |
| softline | 15-18 x 82, 100, 125mm | untreated / Thermo |
| smooth edge boards | 15/18/20/25 x 80 bis 150mm | untreated / Thermo |
| rhombo | 26-32 x 74mm | untreated / Thermo |
| parallelogram | 26 x 68, 78, 98, 108mm | untreated / Thermo |
| diagonal | 25 x 146mm | untreated / Thermo |
Alder

Alnus Glutinosa
| | | |
| --- | --- | --- |
| Profiles | Dimensions | Technical treatment |
| chamfered boards (profil C)/ trapez / roll | 18-24 x 82, 100, 125mm | untreated / Thermo |
| softline | 15-18 x 82, 100, 125mm | untreated / Thermo |
| smooth edge boards | 15/18/20/25 x 80 bis 150mm | untreated / Thermo |
| rhombo | 26-32 x 74mm | untreated / Thermo |
| parallelogram | 26 x 68, 78, 98, 108mm | untreated / Thermo |
| diagonal | 25 x 146mm | untreated / Thermo |
Limewood

Tilia Cordata
| | | |
| --- | --- | --- |
| Profiles | Dimensions | Technical treatment |
| chamfered boards (profil C)/ trapez / roll | 18-24 x 82, 100, 125mm | untreated / Thermo |
| softline | 15-18 x 82, 100, 125mm | untreated / Thermo |
| smooth edge boards | 15/18/20/25 x 80 bis 150mm | untreated / Thermo |
| rhombo | 26-32 x 74mm | untreated / Thermo |
| parallelogram | 26 x 68, 78, 98, 108mm | untreated / Thermo |
| diagonal | 25 x 146mm | untreated / Thermo |