Thermo wood
STABLE AND RESISTANT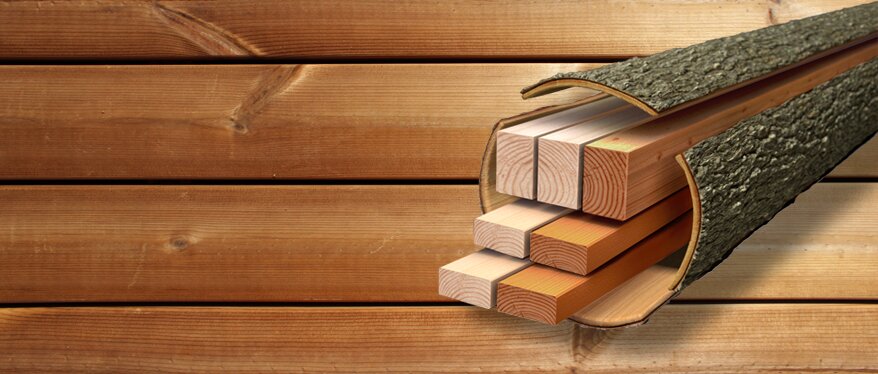 At the J.F.Furnier plant we have combined these traditional methods with modern machinery and current expert knowledge to achieve maximum results through the perfected control of the thermal chamber.
An important acquisition by J.F.Furnir is the thermal chamber from the Finnish manufacturer, Jartek, which went into operation at the end of 2011.
Treatment in the circa 20 Tonne stainless steel thermal chamber initiates various reactions, making the wood extremely durable. The process works without chemicals, through the introduction of warmth, steam and water. A change in the cell structure occurs, so that thermo-treated wood reacts less to damp or dry environments.
By heating up to circa 220 Degrees Celcius, while at the same time reducing the amount of oxygen, European woods can also be put to use outdoors or in wet areas for many years thereby substituting exotic woods. Mainly ash and pine are thermally modified, however other European woods such as oak, linden or beech can also be made more durable by this method. The refinement of wood through thermal treatment has been around for thousands of years, such as in China where wood for cooking utensils was heated to make it more long-lasting.
Or the Vikings for their ship building. Decking from European thermo-wood can keep up with exotic imported wood in durability. Thermo-ash distinguishes itself through a Class 1-2 durability (following DIN EN 350-2), dimensional stability and high resilience to infestation by wood-destroying fungi. And another plus point to the credit of thermo-wood from J.F.Furnir's plant: Different from other thermo-wood producers, who, for, example import large amounts of American ash, Frischeis obtains its raw timber for producing thermo-wood exclusively from controlled European growing regions.
Impressions from the thermal chamber
Product range
Ash-tree

Fraxinus Excelsior
Stärken

Zuschnitt

20mm, 27mm, 33mm, 52mm

unbesäumt
20mm, 27mm, 33mm, 52mm
besäumt in fallenden Breiten
Dimensionsware
Pine

Pinus Sylvestris
| | |
| --- | --- |
| Stärken | Zuschnitt |
| 25mm. 30mm, 32mm, 50mm | Dimensionsware |